I LOVE this woman :D
I bet everyone was starving at the OSCARS. Even you Meryl.
Alya and Gael - Acrobats at Cirque Du Soleil - On Trust
Trust is one of the hardest things to have, earn, or get in life. To trust yourself can be hard enough, but to find the courage to trust another is its on tremendous challenge. 
Got the sniffles :/ but keeping busy with a little #monogram #crafting
Still sick but this Mardi Grad breakfast is helping a ton. #kahluacoffee #caramel #frenchtoast #breakfastcasserole #mardigras
Woke up feeling rather achy this morning and feeling like I was beginning to catch something. I needed a pick-me-up - was already running late for work - so ended up stuffing a mango and Crystal Light package in my purse. Classy I know.
I love mangos - They are the fruit that you don't eat often (at least, not the everyday fruit in the US) so it's always a wonderful treat when I can get some. Especially fresh! 
I quite enjoyed my little breakfast this morning…a little Chi Omega cardinal and straw to kick my on-coming flu =) 
I need to leave work right now to get a pint of this.
Ben and Jerry's Cores.
This new ice-cream product features two flavors packed into one container with…wait for it…a core of fudge/jam/caramel down the middle!
This is the perfect pint for when you can't decide between two flavors & when you don't want to be left with that sad feeling of getting down to the bottom of your hot fudge sundae and realize that you already ate all the fudge on it.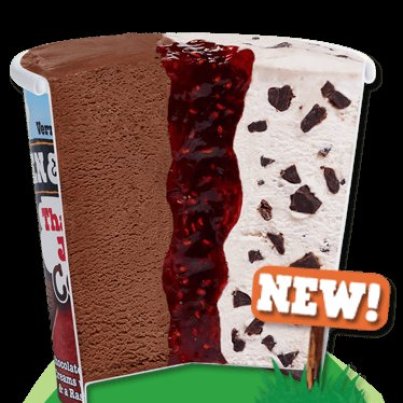 That's My Jam has a raspberry core which looks like it may have actual raspberry seeds in it. Try spreading a little of this on your bagel in the morning =)
The one I am most excited for is the Hazed and Confused. I think this description one me over:
Hazed and Confused is chocolate and hazelnut ice cream with fudge chips and a hazelnut fudge core that tastes like thick, creamy Nutella. If you're a Nutella fan, run, don't walk.
There is also a Chocolate Peanut Butter Fudge, Salted Caramel, a Blondie Brownie, and I am sure many others in the works. So much yummy goodness!
I am also not ashamed of craving this at 10 in the morning.
(Source: The Huffington Post)
What is it about polka dots that just makes everything a little happier?
Add some sparkle and a dash of bold color - you can rule the world.
Fresh #flowers and colorful bendy #straws - just a few of my favorite things #soundofmusic #goodmorning
I ORDERED MY NEW LAPTOP YESTERDAY!!!
This is a major deal for me as this laptop purchase has been in the works for months! I am a very cautious purchaser on many things, especially something as costly as a laptop computer. But finally pulled the trigger and got the Sony Vaio Flip 2-in-1 laptop! 
It's one of those laptops whose screen flips down into tablet mode. While I don't have a NEED for a tablet, it's something I've always wanted and since I need a laptop, figured this was a great combo. Plus, I've been doing more design work and having a stylus would be a great addition.
Major concern is using Windows 8.1. My current laptop is Windows 7 and I am slightly worried about the new interface.
Any tips for using Windows 8 or 8.1?
jvnk:
Yardstick Coffee

Branding by ACRE
**
Inspiration on Monday mornings - best way to kick off your week.